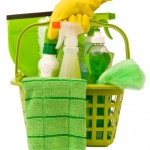 We know that more and more people want their homes cleaned with "green", "natural" or "organic" products and we offer a Green Cleaning Service! Some people just want environmentally friendly cleaning services while others have allergies or don't like harsh chemicals or their smells. We understand.  We use SIMPLE GREEN cleaning products.
We chose SIMPLE GREEN because their products are non-toxic*, biodegradable, non-corrosive, non-flammable, petroleum free, zero VOC's, and not tested on animals. ( *or lowest toxicity possible)
For more information about SIMPLE GREEN products, simply CLICK HERE!
SIMPLE GREEN PRODUCTS are proudly made in the United States of America!